– AlphaTalents Africa (ATA) has taken a controlling stake in Pharmakina, a landmark pharmaceutical company in the Democratic Republic of Congo (DRC).
– ATA is an impact-first investment company that offers a unique model of patient capital as well as active strategic and operational support to African agribusinesses.
– Pharmakina is a major household brand in the DRC and has been producing quinine-based ingredients and anti-malarial drugs for 75 years.
– This significant transaction in the burgeoning DRC outlines ATA's ambition to support companies with high-impact-and-growth potential in traditionally overlooked investment geographies.
Mauritius, 13 June 2023 – Impact-first investment company AlphaTalents Africa (ATA) has acquired a controlling stake in DRC-based Pharmakina that runs one of the few quinine extracting and processing plants in Africa and delivers more than 10 million malarial cures each year.
This privately held company headquartered in DRC's fertile South Kivu province is not just Africa's leading but also one of the world's principal producers of quinine, a substance extracted from the bark of the cinchona tree, also known as Fever-Tree. Quinine has been used to treat malaria since the discovery of its healing properties in the early 19th century. Besides its medicinal use, quinine is used in the cosmetics industry and the food and beverage industry worldwide.
"With ATA's focus on local agri-processing companies that support local communities, our first investment represents a key milestone as it straddles both agriculture and healthcare. Moreover, this investment has immense potential for growth and positive impact in the Kivu region, in the DRC, and across Africa," notes Roland Decorvet, Founder and Managing Partner, ATA.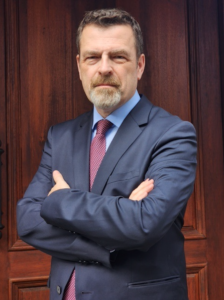 DRC: Attracting growing attention as developing investment ecosystem with massive impact potential
Within the Sub-Saharan investment landscape, the DRC is often regarded as a case of extremes – extreme risk, opportunities and realities that have often discouraged investors to commit capital in the country (except in the extraction/mining industries). Having said that, the DRC government has worked tirelessly over the last years for the stability of the economy with an increase in foreign exchange reserves to US$4 bn at the end of June 2022. While no official estimates have been released, economic onlookers note that DRC has 'dollarised', reducing the foreign exchange risk which is one of the main risks faced by foreign investors in Africa.
In response to such efforts, Foreign Direct Investment (FDI) stock in DRC increased from US$1.3 bn in 2003 to US$25.6 bn in 2019, driven by investment in the mining sector and mobile telephone industries. In 2020, DRC attracted greenfield investment in renewable energy and agri-processing industries. In the coming years, investments in impactful and long-standing companies like Pharmakina are strongly poised to meet investor growing expectations of human, social, environmental, and financial returns.
In addition, the region is seeing more and more international companies take root. World class companies such as Hilton and DP Worlds have set up local entities on the ground while existing players such as Accor group and Orange strengthen their presence.
In terms of domestic demand, the DRC appears to possess plenty of untapped potential for businesses wanting to set up and attract investments from overseas. The country is the second largest in Africa and 11th in the world, with an estimated population of almost 101 million in 2022, of which more than 53% are 18 years old or younger. The capital Kinshasa has an estimated population of more than 15 million, surpassing many African countries' populations.
Moreover, with a diaspora mainly based in Belgium, France, the UK, the USA, Canada, and South Africa and estimated at over 6 million people, the DRC attracts a significant remittance flow. Estimated at over US$4 bn, such money transfers from its diaspora are more important than the country's development aid commitments (US$3 bn). In addition to investing and participating in the needs of their families, the diaspora is beginning to return to participate in economic development, generally in more diversified sectors than the current economy, which is 95% dependent on raw materials.
How AlphaTalents Africa came into the picture
ATA's investment strategy is focused on long-term investment in companies contributing to the development of profitable, sustainable, and impact-centric agribusiness ecosystems in Africa.
By bringing patient capital to the table, ATA seeks to unlock the potential of this strategic sector with a holistic approach to agri-stakeholders that creates measurable and sustainable value across the human, social, environmental, and financial pillars of their impact model. Those four core pillars of value creation are the basis of ATA's performance measurement covering the company's evaluation of the overall impact generated by its investments.
To actively support such high-impact and long-term investments, ATA brings to the table a well curated team of senior food industry and investment boasting a wealth of experience in emerging agri-food industries together with an in-depth understanding of the long investment lifecycle needed to realise the sector's true potential.
Finally, with a firmly rooted conviction that agribusiness cannot thrive in a vacuum, ATA invests up to 25% of its capital in ancillary industries such as education, energy, healthcare, logistics, technology, and financial services that, in varying degrees, affect the agribusiness value chain. This ensures that investments such as Pharmakina, where both agribusiness and healthcare are firmly enmeshed in the business model, can be nurtured, and scaled, with sustainability and impact at the heart of their investment philosophy.
Tapping into Pharmakina's potent potential at the crossroads of agri-processing and healthcare
Going forward, ATA actively plans to achieve significant impact with this investment and invites investors to partner with them on this crucial journey that spans the key agricultural and healthcare domains, both critical for sustaining local livelihoods in the Hopeful Continent.
"With DRC being typically regarded as a challenging region for investments, fantastic local companies like Pharmakina – which has sustained operations over almost eight decades – are being denied access to growth capital. However, at ATA, we are attempting to change precisely this narrative, and we consider such investment opportunities as particularly crucial to the much-needed transformation in investor perception," concludes Bastien Maucet, Partner, ATA.
ATA strives for the development of an efficient African agri-food industry which respects all relevant stakeholders as well as the environment. This crucial sector for the continent presents numerous opportunities for committed investors who understand the realities of the sector. The ATA team is ready to collaborate / co-invest with like-minded partners.
                                                                                                                                            — ENDS —
Media contacts:
AlphaTalents Africa

Roland Decorvet, Founder & Managing Partner

Bastien Maucet, Partner

Via Perpetual Motion
Perpetual Motion

Samantha Seewoosurrun

+230 5772 4400